Rocker Linda Perry Disses Katy Perry: "She's Just Giving Microwave Popcorn"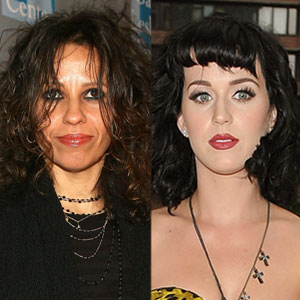 Valerie Macon/Getty Images; James Devaney/Wireimage
Here'a a message from one Perry to another: You suck!
—the legendary 4 Non Blondes rocker turned hit songwriter for Pink, Christina Aguilera, Gwen Stefani and countless other young pop stars—is picking the worst of the worst in modern-day music and says over-the-top Katy Perry is the worst offender in music today.
What's she saying about the "I Kissed a Girl" singer?
MORE: Is Katy's mom trying to sell her out?
Well, basically Linda's had just about enough of her crap music—and says her younger namesake (no relation or that would just be odd) is only interested in churning out fast hits that she compares to junk food.
Linda sat down with music journalist Heath Daniels to discuss her Katy diss and tells him how the music industry has changed over the past 20 years.
"It's just different, it's different," Linda says. "You listen to the Adele record, and I'm not a huge fan of Adele, it's a solid record. A solid record, and it's selling. OK? so that means people are still buying records. It's t
Read more:
http://www.eonline.com/news/rocker_linda_perry_disses_katy_perry/259430#ixzz1VpQgrBid
Katy Perry
Katy Perry
Katy Perry
Katy Perry
Katy Perry
Katy Perry
Katy Perry
Katy Perry
Katy Perry
Katy Perry
Katy Perry
Katy Perry
Katy Perry
Katy Perry
Katy Perry